UPDATE March 2022: The app has now been withdrawn from both Apple store and google play store. So I assume the wingsland firmware update servers have also been killed off
S6 firmware upgrade method (Need a windows pc to do this)
Remove SD card from S6. (Only because just in case it causes issues updating the S6)
Download the compressed package of S6 firmware upgrade program on the desktop, then right click on the compressed package and select "Extract to current folder", then open the extracted folder and double-click to open the running program UsbUpdate, as shown below

After running the UsbUpdate.exe
You will see this box below
The window above of updater will say at this time, "device not connected"
5. DO NOT FIT THE BATTERY TO THE S6!
Plug in a usb lead from computer to the S6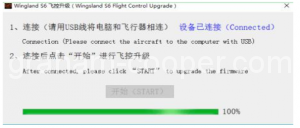 The window  will become the blue font "device is connected",
Then click "start", there will be an upgrade progress bar prompt Upgrade progress
6. When the upgrade is complete, "Device is connected" will change to "Red device" "Device not connected".
Your S6 now updated to a old version that came with the usb util from Wingsland.
After you connect your S6 to your phone, it will either nag you to upgrade to current firmware version, or if it does not then just go to the firmware menu in wingsland phone app and check for updates and it will say there is one. And install it.
Below is the anotherUSB update file, but with the very last firmware Wingsland released
So the link at top of page is original usb update with firmware S6F70528 inside the zip file
and I made a zip below with what was the last firmware released for the S6 which is firmware S6F70720 inside the zip file. Just follow the same instructions above.
So you have 2 options.
First use the link above and flash the firmware and then use the app to update to latest version.
Or use zip below and that will flash the last version wingsland released for the S6
Download "Wingsland S6 USB Updater with firmware S6F70720"

S6-USB-Upgrade-Util-and-firmware-S6F70720.zip – Downloaded 3410 times – 176.99 KB   20th November 2017