Sorry been a while since I posted anything due to lack of time.
But anyway, picked up a non working Thunder tiger Raptor 90.
Not played with Heli's for some years now due to getting into electric quadcopters, but I did miss messing about with glow engines and thought its about time I had a go again.
Always wanted a 90 Raptor back in the day and when one came long cheap due to non working and also not much interest in Nitro craft these days.
Not been run for a few years and engine will now not start.
So first thing is to remove the engine and strip it down and see what's up.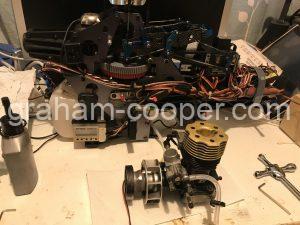 First hurdle was getting the exhaust and manifold off , screws were extremely seized solid, may be down to the amount of thread lock on them or just how many years they been on there. So after some heating , I eventually got both parts removed.
Then I removed the head and was surprised at the lack of build up on top of piston, I dont think this engine run that much before it was put in storage.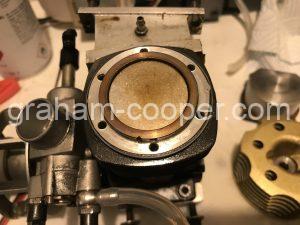 Once I removed the back plate, the inside did not look very well at all, it was covered in baked on old fuel or rust and looked very sad.
Got the piston liner out and removing the cod rod was tight due to the build up of crap, but got it out and removed the piston and could then see the ring had seized closed on piston with sign of score marks on one side.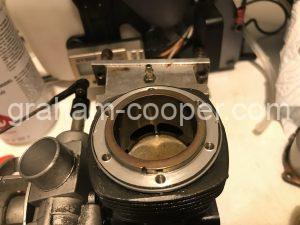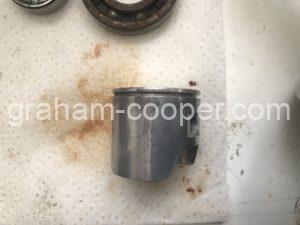 What I think may of happened is heli been into storage for a while and ring almost seized  with old oil/fuel and then it was attempted to be run again and caused the damage as it was not cleaned out after long time not running? Or maybe last run was too lean?
The piston used on a later model of engine had holes in top which were I guess to feed piston ring and maybe a known issue on this model? maybe thats why it seized and scored up liner?
Issue is I could get a new piston ring and gasket parts, but the engine is now old and parts really hard to get hold of and even if I could get a new piston, not really worth the expense.
Think this engine/heli was new around 2006 and so I guess its a bit of a stretch hoping to get all parts in 2022, some 16 years later and think all thats left is just what son the shelf of some stores.
Be cheaper to obtain a used one or just replace with different engine.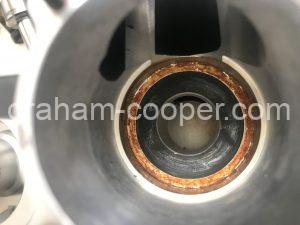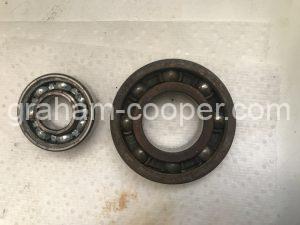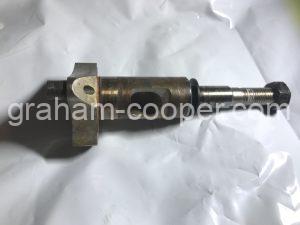 The bearings are a mess and getting a new set from https://www.modelfixings.co.uk/
who do them for a good price.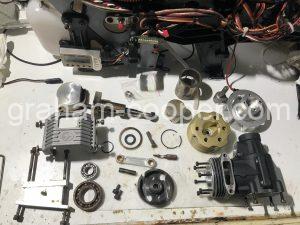 So while I am waiting for parts, gives me the chance to clean all the parts up.
The crankshaft needed a really good clean and I used Autosol Solvol Chrome Polish
and using that on both crankshaft and piston and exhaust and brings them up really well.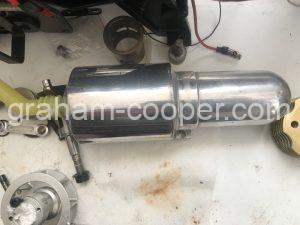 Getting all parts whether for engine or heli itself will always be a challenge on a old model.
Still a few bits around , but for sure need to make sure I dont crash it or it will be history.
Was also thinking of maybe a 4 stroke engine in it or gasser conversion if parts still around or maybe just a OS 105HZ
I am not into 3d stuff so just to plod around.
Very enjoyable though to mess about with a glow aircraft again after many years with quadcopters.
I love my quads , but something nice about a craft with real engine in and being a heli its very mechanical which appeals to me.
There is a flying field not too far from me which I will have to join when I sort this out and want to fly it.
Anyway, waiting on parts now before I can go any further….
happy flying all 🙂