So what do you get if you pick up a dummy DJI Mavic Air ?
Picture of size of Mavic Air compared to Wingsland S6 and DJI Spark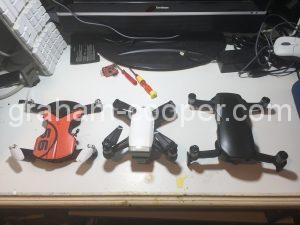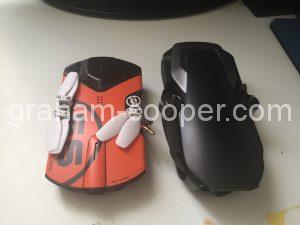 These are the units normally on display.
First thing to notice is it comes with just non working dummy motors, just the bell housing.
The dummy battery case is glued in and it a bit of a pig to get apart and have to use some heat from hair dryier to get it apart.
And inside battery is a lump of metal to give the shell weight
Others pics
Photo above, just seeing if a stm32 type board would fit.
So to sum it up, the Mavic Air is 100% all dummy, no electronics or motors.
So just a shell and nothing else.
The gimbal camera housing is also a shell only and no gimbal motors etc.
Did hope it might at least have real motors , as one could always fit a different flight controller and gps etc.
But the motors are not avaviable on there own yet and only as a complete arm and motor and therefore the cost is not worth it.
The DJI Spark motors will prob fit but they are not as tall and are 1504S 2100kv motors and Spark weighs around 300 grams and the Air around 400 grams. The motors in the Air are 2300kv. Cant as yet find a motor thats close in spec.
So if you see these come along, its probably not worth it unless you just want it for your collection or having it as a spare shell for a real working unit.
The shell without the lead weight weighs 163 grams and that is with the empty battery case and the dummy bell end motors and dummy empty gimbal