Long time since I wrote anything on here , but anyways.
My poor ole AR Drone 2.0 has been sitting in its box all broken for a while, although the main board worked mostly (except for the data line was short) , which meant I could no longer use the Radio controlled mod with it anymore and so it was just left as wifi only.
The motors where falling apart and it also had a broken cross which I had glued back together and the body had been cut about a bit when I was fitting a naze32 flight board and esc's on it. (Waste of time as it turned out too heavy for the motors.)
So worked out with needing to buy a new main board and central cross , 4 x motors and a body with Parrot's expensive pricing on parts , it was not worth it.
Recently I bought a broken AR Drone that had been left in a garage and gone rusty, it was a bit more than I wanted to pay, but took a chance.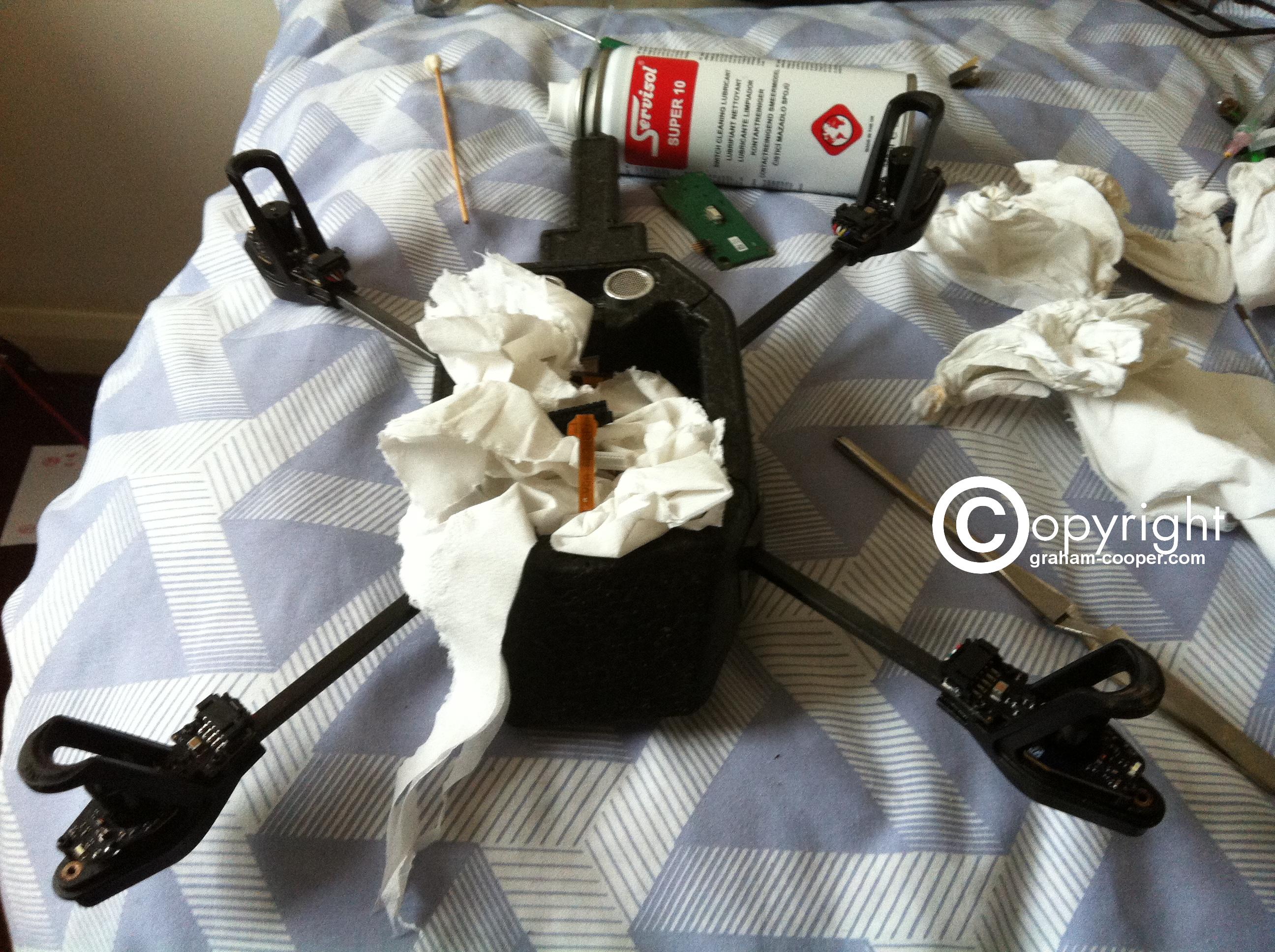 Oiled up and let soak the motors and they were rusted solid , but after a long soak I gently got the shafts to spin again and put in a battery and tested the motors with the props off.
Just let it boot and motors kicked , so thought promising….
Checked out wifi and also updated the way out of date firmware and then hit take off and all motors ran up fine, so thought I would leave them running for 30 secs then power off and did not feel too hot consider they had rusted away very badly around the bearings.
Done that about another 4 times and then on the 5th run all the leds went out, and main board was dead!!
So was looking like a waste of money ……..
I took the main board out and it was covered in rust, I really should have done this before I ran it.
Plugging in the lipo the red led flashed on all the motors once and went off.
I thought that kinda indicates some pwer is getting to motors.
So put it aside and thought although I have a box of blown or dead main boards , maybe I would look deeper into this one.