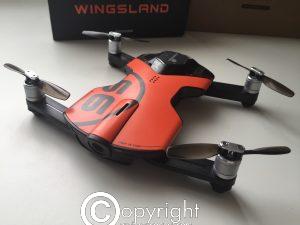 Always wanted one of these quads and Banggood was doing a good price on these , making it worth a try.
Even though many reviews online and on youtube are very negative on them.
Received mine after only about a week and a half, so really good service from Banggood.
Box was not crushed and inside package was some foam around box and after removing that, there was the outside Wingsland Box and inside that, the actual Wingsland package. Glad they done that as its quite a way from Shenzhen China to the UK and packages no doubt get bashed about a bit on the way and so the good packaging was much appreciated.
In fact I wished more makers and sellers done this..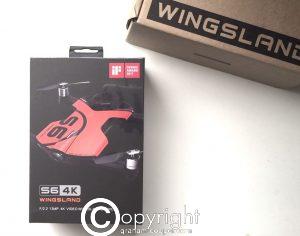 Only thing I noticed after removing the shrink wrap around box, on the inside on the Wingsland S6 there was no plastic film protecting the arms or any film on the camera and plastic strip around the manuals as was seen on some of the unboxing videos, and also the unit had fingerprints over it and a couple of marks on the body underneath.
So this makes me think that at this cheap price, maybe they are refurbished units.
The rest of the stuff inside was brand new in had wrapping and ties etc.
Still at the price and as long as it works ok, I am okay with that.
Bearing in mind a few of the reviews said the battery it comes with was no good, first thing I done was to use a meter and measure the shipped battery voltages.
Resting shipping voltage was 7.78 volts.
1st cell  = 3.88 Volts
2nd cell = 3.90 Volts
So pretty well balanced and no bad cell thus far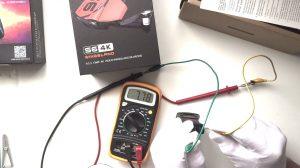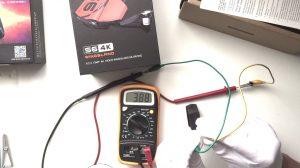 Then it was time to charge the pack and I charged from a computer usb 2.0 port so give a nice slow charge from the first one.
Took 1 hour and 20 mins and at the end I had:-
Fully charged pack = 8.78 volts
1st cell   = 4.35
2nd cell = 4.43
So that second cell seems a tad overcharged to me. Need to check that again on next charge, or could well end up with puffed battery.
These batteries are the LiHV type so hence higher voltage than normal lipos and for these I would expect 4.35 per cell giving a total of 8.70 volts not the 8.78 I have.
Anyway, after that fitted the battery and started up the app on my iphone.
Was greeted with this:-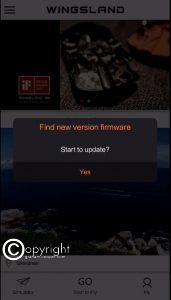 And so hit the yes to update and there I run into first problem!
On the next screen it has no update button!!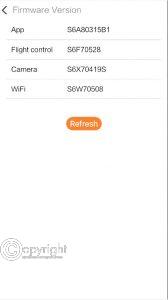 There should be a orange upgrade button, but alas nothing and going back a page it still says update available.
I tried turning the phone, but app on that screen does not rotate as my guess was update orange button might be there, but wont fit on iphone screen.
Anyway, pulled out a old Android phone and tried the app on that and it went to update screen and showed the firmware update!
So seems to be a issue with ios11 and a iphone 6.
Maybe works fine on other models of ios? and maybe it works on a ipad with bigger screen.
I guess other way is to download the Quad S6 firmware from Wingsland's site and put it on a SD card.
After the firmware updated it says update camera firmware and one needs to get that manually from Wingsland's site and unzip the download and put the WingSland.bin file on a SD card and boot the quadcopter and it will update the camera firmware.
So then onto doing the calibration and I am now just waiting for decent weather to test.
So far, as others have pointed out the presentation of this quadcopter is first class, the packing etc was class. Except in my case what looks like maybe a refurbished unit, was the only downside for me.
I am also doing some videos on this, which I will update the post with.