Got hold of one of these SkyViper V2450 GPS a while back as a good friend of mine in the USA put me onto this quad because it uses arducopter firmware, and might be a way to cram this into a broken S6 I have lying about.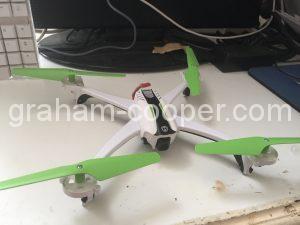 Really nice little quad considering the price and features, with only drawbacks are it uses brushed motors which will always wear out real quick and it use a very low quality 720 camera which from flight I done suffers really bad jello.
But apart from that works pretty well along with the remote it comes with.
Some teardown photos:-
The flight controller is based off the pixhawk racer hardware and is very compact with the rx for the control built on the pcb, so really nice size.
After a few flights of this until the brushed motors wore out and then onto getting this to work in a s6 shell with the original s6 motors.