I am well late to the party on these, but see them on Amazon and thought I might as well try them.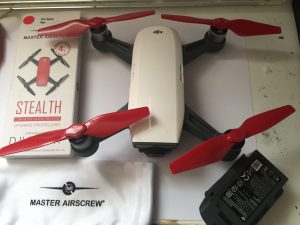 They do indeed have a lower pitch then the original props and flight time is indentical.
So for sure if you want a more pleasing prop sound, these will be for you.
I also wanted to try them out as getting genuine parts like props and even more so Batteries is getting hard now. You can get cheap chinese knock off props at a push, although prefer original props or getting these Master Airscrew ones will do.
Of course have to take props off before the Spark will fit in the DJI Bag, but thats no big deal with how easy props go on and off.
These quads go pretty cheap these days and might still be a good buy for a cheap quality 1080p 2 axis gimbal quadcopter, if you can get one at a good price. Make sure if you do look out for one, get one that comes with spare working batteries as it seems in the UK at least, DJI dont stock the batteries anymore and so I assume they discontinued them 🙁
And you cant get any third party batteries as DJI changed the battery firmware and so third parties could not copy them like the older Mavic Pro ones.