Got some 1106 3800KV motors to test on the S6.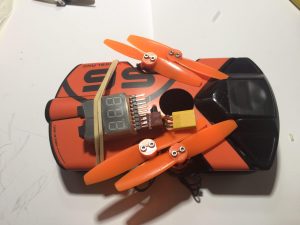 Tested with some gemfan 3025r props.
Was slow getting off the ground due to lower power of motors.
But after about 5 mins, started to hit the ground and bounce as battery got lower the motors cant supply the thrust needed. Also had problems handling the wind.
So looks like the stock 1106 – 4300kv motors are about right.
So to recap on latest efforts, bypassing the stock low battery readings does not really help and so I removed that now. Also lower KV motors are not much help as the S6 just too heavy.
So after a lot of different mods I have now tried, I will stick by the best mod for better flight time is upgrading the cells inside the S6 battery case to something like the Hyperion G7 cells that fit and also better props. Sadly the XT175 simtoo props give 1+ mins extra flight time but break apart and getting hard to buy now anyways. Maybe someone with skills one day can 3d design the simtoo props to fit the S6 metal clamps, but as this is a old quad I doubt it.
So going back to again trying these gemfan 3025's on the stock motors, screw holes do not fit so you have to glue them on with threadlock etc.
I think from memory when I last tried this they gave about same boost as simtoo props, but did have a few issues with props not balanced.
Anyway, that will be the end of the mods for this little quad now as I tried everything really. Been a intresting little ride, but just have to accept for a stock unit, around 6 mins flight time is best to be had.
Have fun all  🙂